Our Toyota Service Centers in Orlando offer a variety of services to help you keep up with your car maintenance. Along with the routine car maintenance we offer, we can keep your vehicle looking pristine with a car detailing. This is more than just simply washing your car. We clean your vehicle inside and out, getting every detail to help it look like-new again. 

If you want this car maintenance, just stop by Toyota of Orlando or Toyota of Clermont and let our professionals do the work for you! You can also try this car maintenance yourself. Our family of dealerships is sharing tips for details your car like a pro! 


Gather supplies to detail your car 
Detailing your own can be a lot of work, which is why it's a good idea to visit our Toyota Service Center for this car maintenance in Orlando. We can help if you want to do it yourself, but you're going to a need a few tools before you start, including:
Carpet and upholstery cleaner 

Glass cleaner for the windows

Surface protector for leather and vinyl

Cotton swabs 

Various size brushes 

A vacuum cleaner with multiple attachments

Compressed air duster

Rags and cloth towels

A high-pressure washer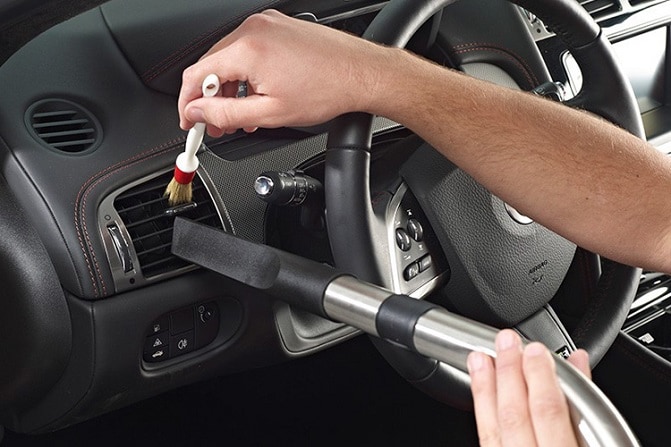 Orlando car maintenance experts explain how to detail your car 
Cleaning your car is quite simple, but detailing it isn't as easy as you think. This entails cleaning every detail to make it look spic and span! Our Orlando car maintenance professionals are sharing the details:
Detailing the interior of your car
You want to start this Orlando car maintenance with the inside of your car so you won't dirty the newly-cleaned exterior. Here are tips for detailing the interior of your ride:
Clear out everything from the inside, including garbage and floor mats. Don't forget about the trunk and only keep what you need!
Once everything is out, vacuum the interior. Get every crevice and vacuum under the seats by moving them all of the way forward and back!
Then, vacuum the floor mats. Use a high-pressure sprayer on rubber floor mats and hang them to dry while you work on the rest of your car. Use a carpet cleaner to help get stains out of your floor mats.
Clean the interior surfaces with a damp cloth and mild cleaner. Use compressed air to get dirt out of the cracks of the center console and cotton swabs to clean the air vents. Wipe the windows with glass cleaner to keep them streak-free!
Clean your seats with upholstery or leather cleaner and blot it with a damp sponge. If your leather seats are worn, you can use leather dye to cover the worn areas.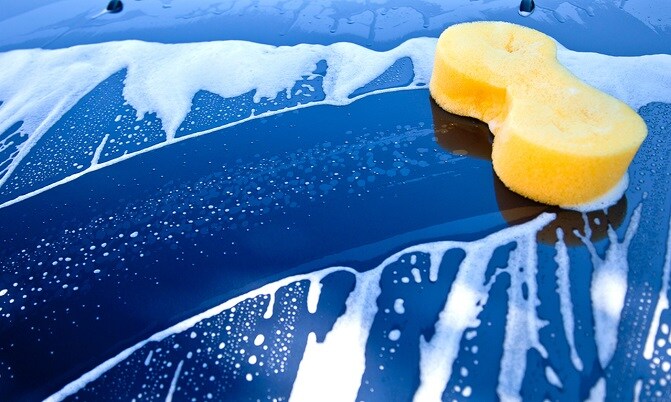 Detailing the exterior of your car

Now, you can finally move to the exterior of your ride to finish this Orlando car maintenance! Here are tips for cleaning the exterior of your car from our Toyota Service Center in Orlando:


First, rinse off your car and wash it with a cleaning solution. Use a solution specifically for washing cars and avoiding household detergents, as they can strip the exterior paint color.

Rinse your car clean and use a high-pressure hose to knock off stubborn mud and dirt. Spray the tires to make them easier to clean and use a cleaning solution that's made specifically rubber on your tires.
Wipe and dry your car using clean towels. Watch for dirt on the towels, as it can cause scratches.
The last step in this car maintenance is to wax your car to make it look shiny and new! 

Like we said, this car maintenance is a lot of work! If you would like professional help, visit the Toyota Service Center at Toyota of Orlando or Toyota of Clermont! We can take care of this car maintenance for you, so you don't have to!

Toyota of Orlando is located at 3575 Vineland Rd. near the Mall at Millenia or you can call (888) 725-3520. Toyota of Clermont is located at 16851 State Road 50 just west of the Florida Turnpike. Call (888) 590-6090 to schedule this car maintenance.