Meet the Toyota Prius family in Orlando!

When you think about a hybrid vehicle, the first thing that comes to mind is most likely the 2014 Toyota Prius in Orlando. This new Toyota hybrid is extremely popular and has become an icon throughout the years. However, now it's not the only new Toyota hybrid to choose from, as the Toyota Prius Family has expanded to offer four options. This lineup includes the Orlando Toyota Prius, Prius c, Prius v and Prius Plug-in. We want to share with you how each one of these models differ and what they have to offer, so you can pick the one that's right for you!



Discover the legendary new Toyota Prius near Orlando!

The Orlando Toyota Prius is the most popular model in the lineup and the one that started it all! It's so popular that it's actually the best-selling hybrid vehicle in the world. This is because it has so much to offer including style efficiency and more!

This new Toyota hybrid has amazing style with its sleek and iconic shape. The shape also helps with aerodynamics to add to its incredible efficiency!
There's no doubt you'll get amazing fuel efficiency with this vehicle, as it has a fuel economy rating of 50 combined mpg!
Under the hood is the Toyota Hybrid Synergy Drive, which is what makes this vehicle so fuel efficient and eco-friendly! This incredible technology allows it to use both a gasoline engine and an electric motor harmoniously and is featured in every new Toyota hybrid!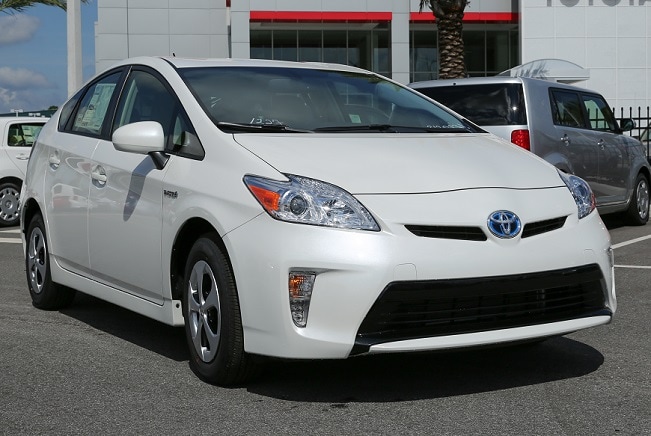 Maximize fuel efficiency with the Toyota Prius c
This new Toyota hybrid in Orlando has a look similar to the original model, but is more compact. Along with its compact design comes even more fuel efficiency, as it has a fuel economy rating of 53 city mpg. Although it may be compact, you won't have to worry about having the space you need because it's extremely versatile with its hatchback design! You'll also love the sporty touches on the exterior including the rear spoiler and alloy wheels.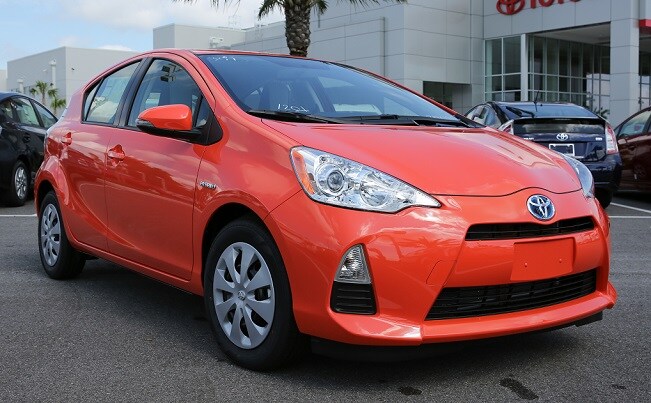 Toyota Prius v near Orlando provides space and efficiency!

If you want a little more room inside, this is the most spacious option. This vehicle comes with 50 percent more cargo space than the original Toyota Prius, which means you never have to worry about leaving any of your gear behind. Even with this extra space, this new Toyota hybrid in Orlando gets excellent fuel efficiency with a fuel economy rating of 42 combined mpg! This new Toyota hybrid also comes with great technology inside including:

Entune, which is a multimedia system that connects to your smart phone to give you access to some of your favorite apps and more!
Back-up camera, which automatically turns on when in reverse, so you can see behind you when backing up without a problem.
Hybrid System Indicator, which shows you information about how efficient you're driving, so you can get the most out of your new Toyota hybrid!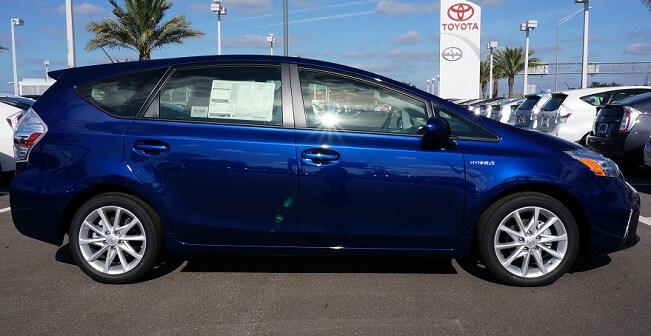 Get smart with the 2013 Toyota Prius Plug-in

This vehicle is the most efficient of the family, as it can be charged just by plugging it into a normal electrical outlet. Once charged, it can run completely on electricity and gets an estimated 95 mpge! Once it runs out of electrical charge, it'll automatically switch to hybrid mode, during which it is gets an estimated 50 combined mpg. Although we don't have this vehicle available at our family of dealerships, we think it's a great option for any driver!

Visit our family of dealerships today to check out the Toyota Prius Family for yourself. You can visit either location, Toyota of Orlando near the Mall of Millenia or Toyota of Clermont located just off the Florida Turnpike. Both locations are open until 10 pm seven days a week for your convenience! We'll see you soon.