Towing is serious business - you have to know how to do it correctly in order to sure that you and your cargo get from point A to point B safely and efficiently. That's where our family of dealerships comes in! Both Toyota of Orlando and Toyota of Clermont have a large selection of new Toyota that are perfectly capable of towing. However, we also gathered handy towing tips from our sales specialist and service technicians to ensure you know how to prep your vehicle AND operate it when pulling cargo behind you! 


Is your new Toyota in Orlando suited for towing?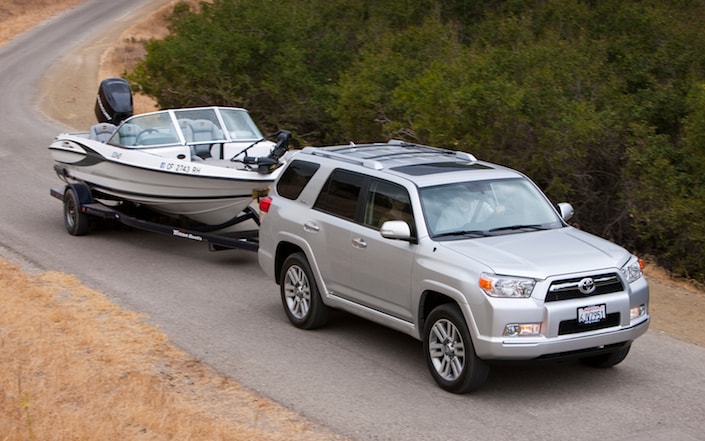 The first thing you need to think about before hooking up that trailer is whether or not your new Toyota in Orlando is capable of pulling it. Certain types of vehicles can only handle certain types of weights - here's a breakdown for you: 


Cars: Cars are typically best suited to pull loads of 1,000 pounds or less. You definitely don't want to overdo it in your sedan!
SUVs and crossovers: These types of vehicles are suited to loads that are a bit heavier, and the occasional heavy tow. However, you should always check your new Toyota's owner's manual before hitching up.

Trucks: If you need to tow heavy loads, your safest bet is definitely a truck. After all powerhouses like the 2014 Toyota Tundra in Orlando can tow up to 10,000 pounds! 

You also need to think about qualities best suited to towing when picking out your new Orlando Toyota. Torque is a very important factor, as it gives your ride the power it needs to pull heavy loads. You should also consider rear-wheel drive, as it offers better stability and handling. Additionally, you may want to consider a tow package, which includes features like Trailer-Sway Control to help make your drive time that much safer!

Don't forget about how important it is to properly hook up your trailer or boat to your new Toyota in Orlando! You should make sure that the item you're pulling is properly hooked up to the frame of the vehicle, not the bumper. If it's improperly attached to the frame, it can cause structural damage to your ride? and if you hook it onto the bumper of your new Toyota, you risk ripping the bumper right off! Oh, and don't forget to hook up lights so other drivers can see when you're stopping or using your blinkers! 


Adjust your driving habits when towing with your Orlando Toyota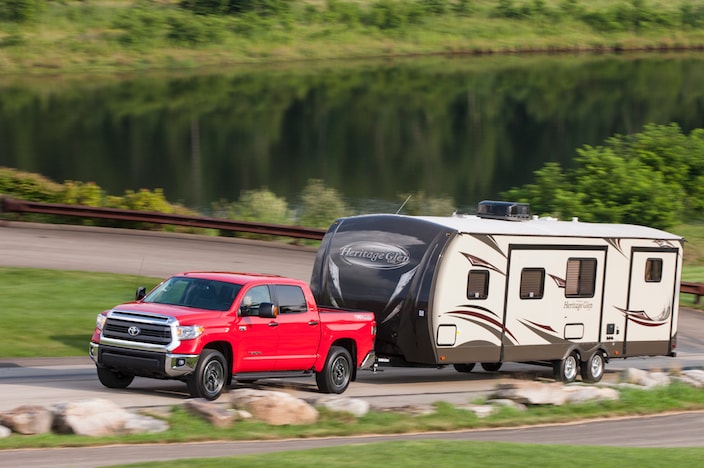 Now that you're hooked up, it's time to reconsider your driving habits when you're behind the wheel of your new Toyota with a tow! Driving when pulling a load behind you is very different than just hitting the highway solo. Here are some handy tips for ensuring safety and efficiency when towing with your new Orlando Toyota: 


Make sure to take things slow and steady - you definitely want to be able to maneuver your Orlando Toyota and keep up with traffic, but you have more weight and length behind you so you have to take that into consideration. Most auto experts recommend keeping your speed around or under 55 mph when towing. 
Leave more room for braking! You have a lot of weight behind you, so it'll take you longer to bring your new Toyota to a complete stop. Be sure to allow the extra space in your calculations. 
You should also leave more room when changing lanes - again, you have a lot riding behind you, so be sure you have room for it when you shift positions on the road.

Take turns carefully when towing in your new Toyota - you'll have to take them wider to allow for your cargo, so make sure you 1) have enough space and 2) are moving at a slow enough speed to take the turn without tipping you or your cargo!

Be sure to indicate your movement to other drivers via lights hooked up to your cargo item. You're a big presence on the road when you tow, so it's essential that other drivers are aware of your movements to avoid a collision. 

Want more tips, or want to pick out the perfect new Toyota in Orlando for your towing needs? Come down to Toyota of Clermont (888-590-6090) or Toyota of Orlando (888-725-3520) to get the scoop on all of our options and check out our tow packages! We'll see you soon - let our family of dealerships help you hit the road!