Get multiple finance options with our family of dealerships! 

Did you know that our Orlando family of dealerships has two great locations where you can find a multitude of financing options? That's right - both Toyota of Orlando
and Toyota of Clermont
have extremely skilled finance teams ready and waiting to help you climb into the new Toyota of your dreams. Why settle for anything less than what you want? With the help of our finance specialists, you can drive home happy, and with a payment that's affordable. Come visit our family of dealerships today and get into the new Toyota or used car you REALLY want!



What's so great about shopping at Toyota of Orlando and Toyota of Clermont? Basically, the options you'll be presented. Both dealerships strive to present you with multiple finance options whenever you come in to scope out a new Toyota
or used car in Orlando, FL. We also ensure that you have an incredible inventory from which to choose, whether you're scoping new vehicles or looking for something pre-owned. Our family of dealerships works with multiple lending institutions as well - each dealership works with over 50 different ones. Why? So we can find you the most competitive rates around and help make your experiences with us as affordable as possible.  

It's all about choices when you come visit our Orlando Toyota dealerships, because the buying experience is about YOU as the customer! We don't want to force you into a payment plan that's uncomfortable, or send you home in a vehicle that's not the perfect fit. We'll do whatever we can to find you an affordable deal on the vehicle you've been looking for! 

We also offer special finance rates for particular vehicles to get you a steal of a deal, as well as offer both new Toyota specials and used car specials in Orlando to help drive down the price further. We want to get you the deal you've been looking for! Our family of dealerships even offer special rebate programs for customers who qualify, such as Toyota Military Rebate or the Toyota College Grad Rebate.



Check out our guaranteed financing on used cars! 

Did you know we even off guaranteed financing on used cars in Orlando
? That's right - our family of dealerships is that determined to get you into the car of your dreams and send you home happy. Ask one of our finance specialists about our guaranteed financing on used cars program, and also check out our Auto Club programs. Both dealerships offer the Auto Club Program to help you with credit issues that you might be facing; the Auto Club can help you establish credit that doesn't exist (such as in the case of new grads), or help you make repairs to credit that's hit some bumps along the way. All you have to do is ask!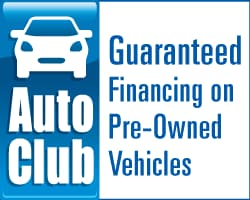 If you want an incredible deal, and to work with skilled specialists who will do everything they can to see you leave in the vehicle you want at a price you can afford, visit Toyota of Orlando (3575 Vineland Road) or Toyota of Clermont (16851 State Road 50) today. Our family of dealerships has an amazing selection of both new and used cars, so come explore!