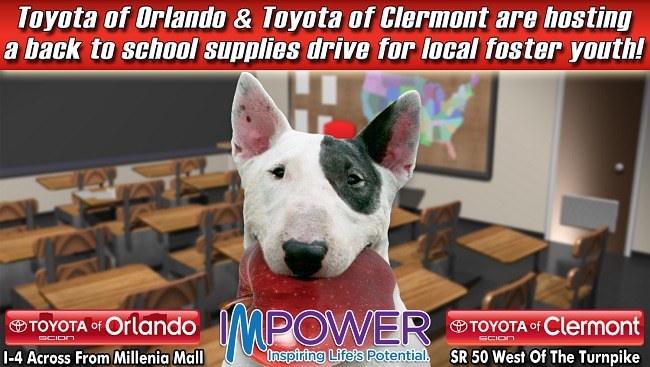 Our family of dealerships is always happy to help the community and we want to enlist your help as well! We're collecting school supplies for a Back to School Drive
to help local foster youth gear up for the upcoming school year. These supplies will be donated to IMPOWER, a foster youth organization, and distributed to more than 200 local youth in need.


Donate school supplies at either location: Toyota of Orlando or Toyota of Clermont!

Both 
Toyota of Orlando
and 
Toyota of Clermont
are pitching in to help these youth get the supplies they need to start the year off on the right foot and achieve academic success! Many of them are from low-income families or simply do not have family to turn to for help, which is why every little bit counts. We'd hugely appreciate it if the community could contribute to this great cause.

Helping is easy. Simply pick the dealership that's closest to you to take in your contributions. There will be a barrel located at the front of each store, in which you could drop off your items or you can leave it with the receptionist. Here is a list of items requested:
Backpacks

#2 pencils and pencil boxes

Erasers

Spiral and composition notebooks

Black, blue and red pens

Adult and youth scissors 

Wide and college rules notebook paper

Pocket and 3 prong folders

Computer and graph paper

Glue sticks and Elmer's glue

16 and 24 count boxes of crayons

Combination locks

Compasses and calculators

Rulers and Protractors

Highlighters and colored pencils

1' and 3' 3-ring binders
Help foster youth reach academic success with the Orlando Automotive Family!

Our family of dealerships is committed to our community, which is why we support amazing organizations like IMPOWER. This non-profit organization helps foster youth reach their full potential by protecting and guiding them and their families. Just last year, Toyota of Orlando awarded IMPOWER with a brand new Toyota Sienna to help carry out their mission and have been working with the organization ever since!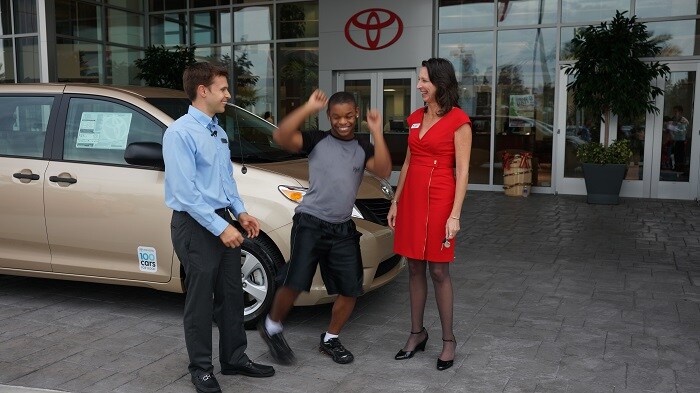 Toyota of Orlando
is located at 3575 Vineland Rd. near Millenia Mall and can be contacted at (888) 725-3520 with any questions. Toyota of Clermont
is located at 16851 State Road 50 right off of the Florida Turnpike and can be contacted at (888) 590-6090. Both dealerships are open until 10 pm seven days a week, so please stop by and help support this important cause!


The drive runs through Aug 15, 2013. We appreciate your contributions!